Giving  back to charities and our local community.
At Davlav we think it is extremely important to give back and support some great causes. We try to do as much as possible and are always looking for where else we can help. We support causes through sponsoring sport teams, supporting local community lead projects and donating to charities.
Sports Team Sponsorship
We feel it is important to give back to and help the local community, helping to create a great relationship. One example of this by sponsoring local rugby clubs such as Bishop Stortford and Brentford. We like to sponsor these smaller clubs as they can struggle financially at times. This is especially true after the year we've just had. With them not being able to play many games at all, and not being able to make money from this.
Field of dreams – community Farm
Not to long ago we donated 50 of our old portable toilets to the Field of Dreams community farm in Suffolk. The farm runs off of donations given to them by the local community, so anything donated really helps. They have previously had donations in the form of building materials, fencing, poly tunnels, animals and even a tractor. They have kept a few of the toilets for themselves to be used by the farm's volunteers and visitors. However, they will be selling the rest in order to raise funds for other areas of the farm. This could be from £8,000 to £10,000 for them, which could help improve the farm a lot.
This donation was also a great way of us reducing our carbon footprint and helping out the environment. Recycling our old products is a great way to do this. If not for the donation they would have simply been discontinued and then taken to a landfill adding more plastic waste. This is something we are extremely conscious of. The construction industry in particular contributes to a lot of plastic waste, so it is great to be able to do our bit in reducing this.
The farm has made it clear to us on multiple occasions how grateful they are and how much the donations really have helped. We love to hear and to be able to see that our donations have gone to a good place. You can read an article on this, in a local newspaper Here.
Plant Pots
In fact, we recently got a thank you present from one of the great charities that we have been supporting. Dis4u (Disability inclusion society) kindly gifted us with these amazing Davlav toilet shaped plant pots! This was as a way to say thank you for the Christmas gifts we had donated to them.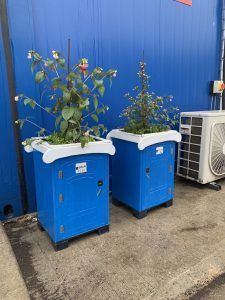 Just look how good they are! These are our pride and joy, being placed in prime location in order for all of our employees to see them every day.
Charities
We support also support a number of children's charities with donations and supporting events. These are charities such as: Haven House, Havens Hospice and Make-a -Wish all help children with end-of-life illness's enjoy days out for care within safe and comfortable environments. If you would like to donate to one of these great causes yourself, follow the links.
Haven House – Children's Hospice
https://www.havenhouse.org.uk/Appeal/donate
Havens Hospice – Children's Hospice
https://www.havenshospices.org.uk/support-us/make-a-donation/
Make-a-wish – Children's charity helping to fulfil wishes to seriously ill children.
https://www.make-a-wish.org.uk/donate/make-a-donation/
We are always looking to support more causes, whether that is a charity or in the local community. If you know of any good charities or organisations you think we can support, please do get in contact and let us know!